Here's a timely word, from yesterday's
Fox Trot
comic strip: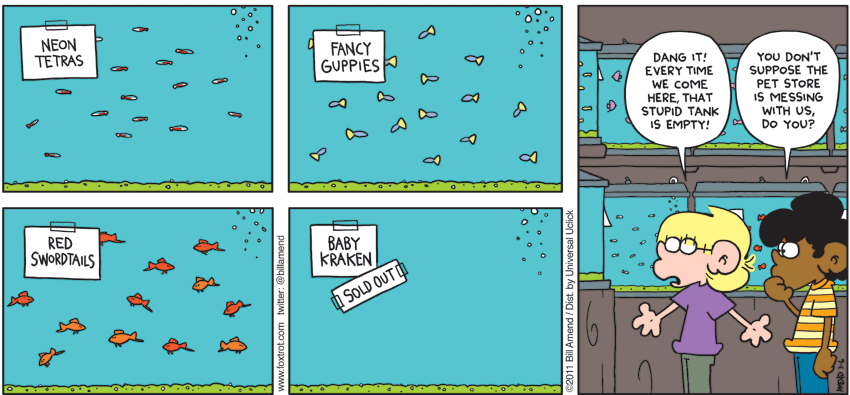 This makes no sense unless you know what a
kraken
is.
So what is a kraken?
kraken
– a mythical sea-monster of enormous size [from Norwegian]
Luzin had disturbed a kraken in the ocean trenches of mathematics, which is now swimming toward us with its lurid mouth agape. … Luzin's creature may not be is definitively devastating –but it is menacing enough, since its irresolvable paradox threatens to devour mathematics.
– Robert Kaplan and Ellen Kaplan, Hidden Harmonies: The Lives and Times of the Pythagorean Theorem
The concept of a Kraken goes back at least as far as a 1250 text in Old Norwegian. It is called a kraken in the
English translation
, made 1917 (see next-to-last paragraph of chapter 12) but that word is not in the 1250 original, which calls the monster a
hafgufu
.
What does this kraken-monster look like? Unclear. Tennyson gave it "
giant fins
", but later changed those fins to "
giant arms
". Sometimes it's a vertebrate (as the fish in
Fox Trot
; the gigantic four-armed fish-man in the movie
Clash of the Titans (1981)
, which becomes dinosaurian in the 2010 re-make), but more typically (as in
Pirates of the Caribbean
) it's a giant octopus that can engulf and drag down a ship at sea.
Enjoy the video clips.
Interestingly, the word for "octopus" is similar to "kraken" in German ("Krake") but not in other Germanic tongues: English, Icelandic, Dutch, Danish, Norwegian, and Swedish.
This message has been edited. Last edited by: wordcrafter,